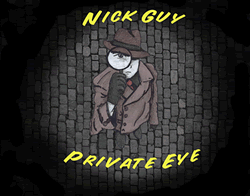 Nick Guy, Private Eye, Apologetics Series
MISSION STATEMENT
Early Church Apologetics. In I Peter 3:15, 16 the Apostle writes: "But in your hearts honor Christ the Lord as holy, always being prepared to make a defense to anyone who asks you for a reason for the hope that is in you; yet do it with gentleness and respect, having a good conscience, so that, when you are slandered, those who revile your good behavior in Christ may be put to shame."
The early church had a need to answer critics within the Roman Empire against distorted reports about the actions and practices of Christianity. These distortions proved to be a hindrance to the preaching of the gospel. With the Church and its beliefs and practices marginalized in this way, the Gospel could be easily dismissed out of hand by non-believers.
By giving a defense for the faith, correcting the distortions, explaining the practices and giving reasoned and logical defenses for the belief system of the church, those who brought these charges would be, as the Apostle Peter wrote, put to shame, and a hindrance to the preaching of the Gospel would be removed.
Christianity is under attack in our day. Much like at the time of the early Church, many doubters and mockers have risen up attempting to undermine our faith with arguments and debates designed to paint God's word as a fraud and His people as fools. They claim that God and His word are, at best, irrelevant, or, at worst, dangerous. All of this can undermine the confidence of the faithful and hinder the work of the Gospel.
It is with this in mind that we produced the Nick Guy, Private Eye, Apologetics Series. I Peter 3:15 says that we should always be prepared "To make a defense to anyone who asks you for a reason for the hope that is in you." The Nick Guy, Private Eye, Apologetics Series can be a useful tool to help the Christian, both young and old, give a defense for what they believe.
Sometimes Christianity is referred to as being a "blind faith." This seems to imply that Christians believe in something that is unreasonable. Our faith in God is not unreasonable nor is it blind. God has provided sufficient evidence of His existence and proven Himself true to His word. Certainly there are a number of things about Christianity that are foreign to human logic and reason (such as the doctrine of the Trinity). But when dealing with a supernatural being such as God, there will inevitably be things about Him and His character and actions that are beyond our understanding and hard for us to comprehend. But it is God's track record of evidence and trustworthiness that enables us to trust Him with those things that are beyond our ability to understand.
In this series we will deal with arguments for and against Biblical Truth. We will examine the evidence, weigh the options, and show how the Bible is true and its accounts are most reasonable and logical. Our goal is to equip the saints of God, to both encourage them in their faith and to provide them with a useful tool in sharing the gospel.
The premise of the series is this: Nick Guy is a Private Eye who gets hired to solve some most unusual mysteries. Aided by his faithful friend and assistant Dr. DeSoto, Nick Guy unravels the mysterious disappearance of the body of Jesus from His tomb three days after His death. He searches out a particular Child born in the small town of Bethlehem who some claim is the King of the Jews. He attempts to discover what happened to a Christian-hunting Pharisee named Saul who is now preaching the very things he once fought against.
The series is entertaining, funny, and thrilling as well as educational and encouraging as Nick Guy bungles his way through his investigation while being hindered by those who would not wish for the truth to be known.
It's a great series for both young and old, and one you will be able to enjoy and refer to over and over again.