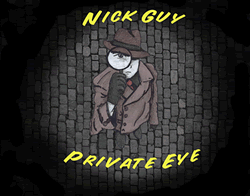 NICK GUY, PRIVATE EYE
THE CHARACTERS
MAIN CHARACTERS
NICK GUY: Nick Guy is obviously our main character. I originally conceived of him as a comical version of Humphrey Bogart as Sam Spade.
Then I shifted gears a bit. Adding the Dr. DeSoto character, I envisioned the two of them as a comical Sherlock Holmes/Dr, Watson pair. My initial thought was that Nick Guy would be totally incompetent and that DeSoto would actually be the one to solve the cases. But Nick Guy's incompetence would be known only to the audience. Those around him would misinterpret his bumbling as genius. I planned to leave DeSoto's awareness of this fact clouded so that the listener would not be certain if DeSoto knew that Nick Guy was not very bright or if he, even though he was keen enough to solve mysteries, was himself fooled into thinking Nick Guy was eccentrically brilliant.
My first attempt at a script was less than satisfying. The whole dynamic just wasn't working, so I laid the whole project aside.
Shortly after that I was at a local library and came across season one of the 1960s Get Smart TV show starring Don Adams. I brought it home and found it just as enjoyable as I remembered it when I was younger. But while watching it, something interesting struck me. Although Maxwell Smart could be bumbling and prone to making mistakes, he wasn't totally inept. He wasn't the total source of the comedy. Other characters, both good guys and bad guys, provided their share of it.
I began work on another script, deciding to go for an Easter Special. In what would become the pilot episode, Nick Guy & Dr. DeSoto would meet just as Nick Guy is hired to solve the mystery of the Empty Tomb.
For voicing Nick Guy, I chose my Cary Grant impersonation. It seemed to fit well. Nick Guy was meant to be somewhat suave - but, of course, he's not quite.
My daughter Susan is a wonderful artist, and she has created all of the CD covers in the Nick Guy Series. For the character of Nick Guy, I gave her a picture of Humphrey Bogart as Sam Spade to use as a model.
Nick Guy's name came from several sources. A number of years ago, a friend of mine played some albums for me by an American comedy troupe called Firesign Theater. One character that stuck in my memory was Nick Danger, Third Eye. If you haven't guessed, that's where I got Nick Guy's first name from.
His second name came from the fact that I have always found the name Guy a bit interesting. A good friend of mine, Joe Vash, and I used to joke about an imaginary person we called "A guy named Guy." It helped that the name "Guy" rhymed with "Eye" in Private Eye.
DR. DeSOTO: Dr. DeSoto is the faithful friend, companion and assistant to Nick Guy. Originally he was to play Dr. Watson to Nick Guy's Sherlock Holmes. That relationship has changed slightly. He is a bit sharper than Nick Guy, less clumsy and more analytical. He had been an army surgeon. But when the filed hospital to which he was assigned came under enemy attack, he was injured. He received an honorable discharge from the army and returned home to recover from his wounds. While looking for suitable lodgings, he came across an ad from a man seeking someone to share expenses on an apartment. He answered the ad and met Nick Guy. From that first meeting he became involved in his first case, and the two have remained close ever since.
Some years ago Paul McCartney made a short film based on the character Rupert the Bear. Besides writing the music, he also provided several of the voices. For Rupert he did this sort of high-pitched version of his own voice. I had used my version of this voice many times in REALiTY CheCK, and it seemed to work well here.
My daughter Susan modeled Dr. DeSoto after David McCallum as he appeared in his performance in the movie The Great Escape.
Dr. DeSoto got his name from a children's book by William Steig called "Dr. DeSoto." My son Daniel had taken the book out of the library once and wanted me to read it to him. For some reason that name has always stuck with me, so I used it here.
REGULAR CHARACTERS,
It's normal to have several characters who appear regularly throughout a series. In the case of the Nick Guy Series they each serve a vital role.
PROFESSOR DASTARDLY: Every hero needs to have an arch-nemesis, and for Nick Guy, Professor Dastardly fills that role. And although he is cruel and cunning, he is not exempt from some making a few mistakes. Like the time he trapped Nick Guy & Dr. DeSoto by posing as a cab driver. He threw a cannister containing a "sleeping gas" into the back seat, but forgot to put on his face mask first. So the gas rendered him unconscious and he drove the cab into a tree.
For Professor Dastardly's voice I chose the voice of Peter Lorre. Many of the voices I use are my impressions of actors from a number of years ago. One advantage to this is that many of my listeners are not familiar with these actors and may think that I came up with them myself, making me look much more creative than I am.
LOOSE LIPS LOUIE: Loose Lips Louie is another regular character who has a useful purpose. Every Private Eye needs an informant. I got the name Loose Lips Louie from a story I heard from a guard at the Warrensville Workhouse where I went regularly to minister as a part of a church group. The guard told us of a regular "customer" named Louie "the Dip" Finkelstein. Louie the Dip is regarded as Cleveland's "Prince of Pickpockets" (a rather dubious distinction).
Obviously a big part of the Nick Guy Series is providing the listener with the tools to be able to defend the Christian Faith. This requires the presentation of information, and Loose Lips Louie has been a great character for this purpose. As an informer, I can have him present the apologetic, giving Nick Guy the information he needs to solve the case, and the listeners the information they need to defend the Faith.
His voice is similar to Daffy Duck's. A real heavy lisp. Due to the nature of their job, informants need to be pretty secretive about what they do. No one is likely to give up information to someone they know to be an informant. Loose Lips Louie does a good job despite being called Loose Lips Louie.
DR. WARBLO: Along with using the Loose Lips Louie character as a means of presenting information I have Dr. Warblo as well. Dr. Warblo was an instructor of Dr. Desoto, and Nick Guy & Dr. DeSoto go to him many times in their investigations as he is a well of information. His expertise varies slightly depending upon how I need to use him.
The name came from a Bob & Ray skit which featured a bottle of Dr. Warblo's sheep dip pills.
RECURRING CHARACTERS
As the Nick Guy Series has progressed I have found that certain characters are received well by the listeners, and it becomes a good idea to have them make periodic appearances. Some of these characters are enough over the top that they are funny just in themselves. This being the case, their appearances have to be handled judiciously. Otherwise they can be too much and their appeal can wear thin.
BILLY ORBACH: One of the most recognizable characters (and one of my personal favorites) is Billy Orbach. Billy developed over time apart from his first appearance in a Nick Guy installment. Once when I called my good friend Ron Black, I came up with the Billy Orbach character. Since Ron is the music director at our church, I presented Billy as a budding saxophone player who wanted to know when he could display his abilities to Mr. Black. The gag became a running one which even two of my sons, Paul & Thomas, took part in. After a few years, Billy Orbach was a pretty well-established character. It only seemed fitting that he should perform in a Nick Guy adventure. His somewhat eccentric nature and equally eccentric interest in science fiction worked well in Nick Guy & the Age of the Earth Affair.
My son Paul provides the voice of Billy. Although I originated the character, I think he does the voice much better than I do.
RUSSELL TROUT: In one episode featuring Billy Orbach, we mentioned his good friend Russell Trout. For Nick Guy & the Great Reframing Affair, I decided to add Russell Trout to our stable of characters. The rapport between Billy and Russell has worked very well as they discuss things like who is the world's all-time best microbiologist.
To voice Russell Trout, I turned to my son Thomas. He brings a nice style to Billy's companion.
RUSSELL MOTH-EATON: Russell Moth-Eaton serves as an antagonist to Nick Guy. He is not a Christian and is incredibly condescending to anyone who is. He is a good character to use in presenting the views of critics of Christianity. Also, since he has appeared in a number of Nick Guy Adventures, the audience is familiar with who and what he is.
MARIO CAPUZZO: Certain characters seem to be funny just being themselves, and Mario Capuzzo is one of those characters. I have tried to keep his business dealings somewhat obscure - we don't really know if what he does is above or below the law. His voice came to me one day while I was just messing around. His name came in a similar way. It just sounded good having him say it, so I kept it. The idea of him smelling like garlic and cheese came to me early on. As did his inability to get a woman to date him (which is generally tied in with his smelling like garlic and cheese).
GIZMO PENPALMER: This is my not-so-subtle attempt to do a play on the voice of Porky Pig. I have always been amazed at the talent of Mel Blanc (who voiced Porky Pig, along with Bugs Bunny, Daffy Duck, Yosemite Sam, and perhaps hundreds of others, for Warner Brothers).
He appeared in one of the first Nick Guy Adventures, and was one of the first to make a reappearance.
MISS TIMID: I like to give characters names that reflect their personality, and Miss Timid is one such character. In her first appearance, in Nick Guy & the Bad Things/Good People Affair, she was a shy, demure and submissive assistant. This even though she is very competent and knowledgeable, and not exactly lacking in selfconfidence. Rebekah Bradford did this voice very well. In fact, it was that fact, as well as the potential we saw in the character, that we knew we wanted to give her a recurring role in the series.
TRIXIE PRATTLE: As shy and demure as Miss Timid is, Trixie Prattle is bold and brash. Although she made her first appearance in a Nick Guy Adventure with Nick Guy & the Cold-Case Affair, we first used her voice in an installment in the Human Eel Series (which, although recorded first, was aired after the Nick Guy episode). In fact, it was her appearance in the Human Eel that gave Rebekah and I the idea of developing her for a larger role.
In the Human Eel we employ recurring scenes that feature the citizens of Megapolis City commenting on the subject of the installment, with music in the background. Rebekah did the Trixie voice for one of these citizens. We used the character in each of these "Street Scenes" in that particular installment, and then decided to give her a more prominent role.
She is one of the characters who is funny by being a little over the top. And again, we have to be careful not to overuse her.
DIM WHITLEY: Dim Whitley is a character from my first program, Reality Check. He is the cousin of that program's main character, Nit Whitley. He's a fairly simple and likeable character. So much so that, like the Russell Moth-Eaton character, the audience can easily identify him, which saves having to set the character up.
This voice is perhaps one of the oldest I do. It was a voice my brothers and I developed when we were children. Very distinctive, and actually very easy to do.
C. DAWKINS SHYSTER: C. Dawkins Shyster is a character we have used numerous times (although I think in earlier episodes he had a different name).
Jon Bradford has perfected the voice for this character. Actually this voice shows the skill Jon has, because even though he is personally honest and conscientious, he is very convincing as the integrity-challenged lawyer.
GLUMKIN THE CLOWN: Glumkin the Clown first appeared in the Reality Check Series. He's a depressing, self-deprecating clown. Nothing ever goes right for him, which is just what he expects.
He first appeared in the Nick Guy Series in Nick Guy & the Bad Things/Good People Affair. Originally he had a larger role, being one of the suspects in the mystery. Unfortunately, the program ran way over time and I had to make some serious cuts. The most expendable of the characters was Glumkin (but that's what he would have expected, I dare say). We did add his cut scenes in our "Deleted Scenes" tracks that appeared on the CD.
Glumkin's voice was inspired by someone I knew who constantly talked about how bad things were going for him. He's really a fun character to do.